education
JOIN OUR CLASSES ONLINE
If you would like to join please download the Zoom app from the Apple App Store or Android.

Once downloaded on your phone or computer, you can join the class by using this link.

https://zoom.us/j/6457054016
Password: 699576
14th Miami International Torah & Science Conference
CLICK HERE TO VIEW VIDEO RECORDING OF THE ONLINE CONFERENCE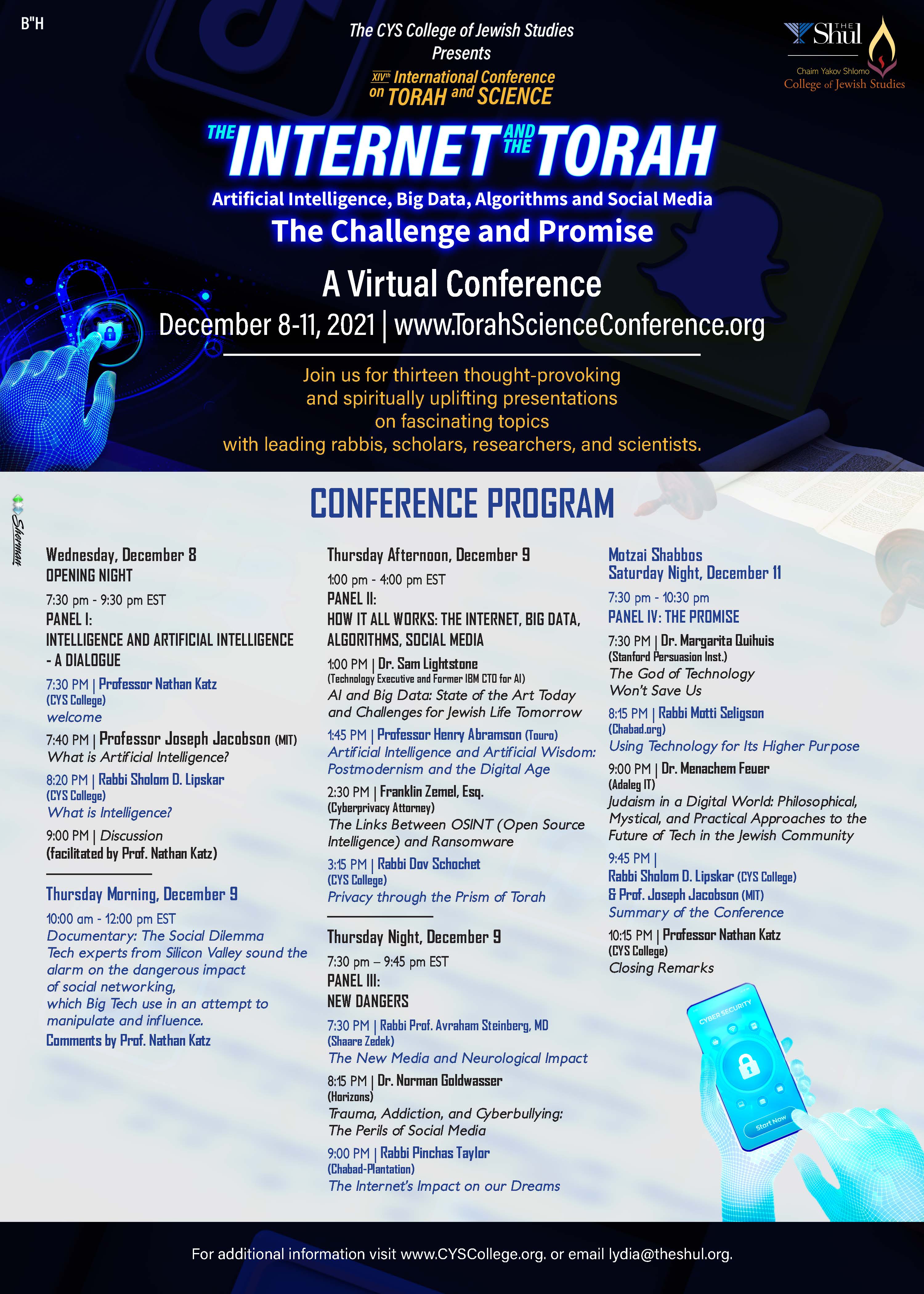 https://www.chabad.org/multimedia/video_cdo/aid/5333042/jewish/LIVE-Conference-The-Science-of-the-Internet-and-the-Torah.htm
CONFERENCE MISSION
Whether we realize it or not, Artificial Intelligence is all around us and plays an active role in our daily lives. Every time we use our Smart Phone, do a Google search, open our Facebook newsfeed, make a deposit, or get a product recommendation from Amazon, AI is lurking in the background.
The 14th International Conference on Torah and Science will explore this timely topic when it looks at "The Internet and the Torah: Artificial Intelligence, Big Data, Algorithms and Social Media, the Danger and Promise" on Dec. 8-12, 2021. The biennial event is sponsored by CYS College of Jewish Studies and held at The Shul in Surfside, Florida.
Addressing the science of the Internet, an IBM technology officer will explain how it affects us, on conscious as well as unconscious levels. Also explored will be "Big Data," referring to large data sets that spawn algorithms to reveal patterns, trends, and associations in the data – which is why, when you browse a website for shoes, you suddenly see an influx of shoe ads on your Facebook home page – and social media, those websites and applications that enable us to create and share content or to participate in social networking.
What potential dangers does AI pose? A panel discussion by international medical and legal experts will explore AI's neurological, psychological, and addictive sway, as well as its very real threat to personal privacy and the impact it has on civil societies worldwide. There will also be a look at what Judaic teachings and secular law convey about privacy.
Still, there is the promise AI offers by connecting us in meaningful and beneficial ways. A researcher at Stanford University's Persuasive Technology Lab will discuss her scholarship and activism to use media to promote peace. One of the first religious organizations to embrace the Internet was Chabad, and participants will learn about the Lubavitcher Rebbe's teachings about technology and its overall moral neutrality, emphasizing the possibility of and need for its use for positive goals.
Because the entire discussion is framed by Artificial Intelligence – the "beast" that drives the entire operation – participants will consider Jewish teachings about Intelligence. A professor from MIT and the President of CYS College with grapple with the questions: What is AI, what is Intelligence, and how do these two realms interact? In other words, is AI really intelligent?
For more information about the 14th International Conference on Torah and Science, contact Lydia Hasson at The Shul at 305-868-1411, ext. 311 or send an email to lydia@theshul.org. The full program and further information can be found at
www.CYSCollege.org or www.TorahScienceConference.org
Videos of the 13th Torah & Science Conference
Audios of the 13th Torah & Science Conference
History of the Miami International Conferences on Torah and Science
Address questions to:
Lydia Hasson - lydia@theshul.org
JLI (Jewish Learning Institute)
Serving learning centers in over 900 communities and on the internet, the Rohr Jewish Learning Institute (JLI) is the world's preeminent provider of Jewish learning. JLI's mission is to make Jewish learning accessible and personally meaningful to every Jew, regardless of background or affiliation. JLI's insightful curricula utilizes cutting-edge pedagogic techniques,JLI's mission is to make Jewish learning accessible and personally meaningful to every Jew, regardless of background or affiliation. JLI's insightful curricula utilizes cutting-edge pedagogic techniques, embracing the multiple intelligence model and utilizing multimedia and an array of
approaches to engage, educate, and inspire all kinds of minds in a dynamic Jewish learning experience.
At The Shul we offer every JLI course, offering three accredited courses per year on an array of topics including Jewish ethics, Jewish mysticism and philosophy, Jewish history and culture, and Jewish belief and practice. JLI's courses are accredited for continuing legal and medical education and all courses offer CEU credits.
The Shul Child Enrichment Center
The Shul Child Enrichment Center is a place where Jewish children receive an exciting, creative and nurturing experience that will provide them with the foundation to grow spiritually, educationally and socially. We strive to constantly offer the most educational models in one great curriculum.
Your child's experience will be filled with Jewish traditions and customs intertwined with the Montessori philosophy. This method emphasizes the unique individuality and importance of each child. Activities include the use of the five senses, kinetic movement, spatial refinement, small and large motor skill coordination, and concrete knowledge that lead to later abstraction and enhanced development. Also incorporated is a highly creative art program as well as gym, music, yoga and more.
As an educational approach, The Shul Child Enrichment Center woven with the Montessori Method focuses on the needs, talents and gifts of these children. Children who experience the joy of learning are believed to be happy, confident, and fulfilled. We provide small classes with excellent teacher/ student ratios, professional staff of early childhood specialists and modern facilities with a child oriented environment so children can explore, touch, and learn without fear, developing a lifelong love for learning.
We welcome every Jewish child regardless of background of affiliation. Your child will receive a well-rounded enriching education, filled with the richness of Judaism.
For more information: www.theshulpreschool.org
Mon, May 16 2022 15 Iyyar 5782