TISHREI 5783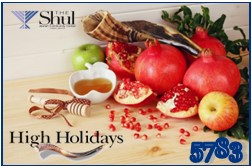 Dear Community Family,
As our world continues to experience global tremors that shake the very foundations of our lifestyles and security, it becomes ever more clear that we are completely dependent on the Creator, Owner, Director and Authoritative Conductor of our mortal realities.
It is Hashem, our compassionate Father in Heaven, Who casts the final determining vote to open the door to incredible blessings or, G-d forbid, to formidable challenges.
In the same way as an intelligent entrepreneur will make a year-end evaluation of his successes, failures, fulfilled objectives, missed opportunities and any other factor that is germane to one's annual report, so too should each and every one of us look at our own past year and make that same critical, honest analysis in a general way and, if possible, in a more detailed, specific manner.
To navigate the complexities of life on a regular basis requires a deep understanding of life, its function, its purpose, its meaning, how we operate, what can we expect in the future and how do we make the best decisions when issues pose dilemmas.
That very sophisticated process is made completely accessible, utilizing the gift of Torah that Hashem gave us, encompassing His "how to directives" for each and every one of us that explicitly states and elucidates everything we do, including business, nutrition, resting, health, relationships and social responsibilities.
It is the Torah way that already has proven for 3½ long millenniums, through the thick and thin of history, to be the safest and surest path that constantly moves in a positive, upward trajectory, leading to maximum fulfillment and success.
As we prepare for the new year with new potent energies at a time in our history when we are experiencing literal transformation from the few years of insulation and isolation to integrated communal living and healthy interaction, let us renew every aspect of our lives with a greater optimism, commitment to goodness and kindness, connection to Hashem and His directives and a deep yearning with impatient waiting for the immediate coming of Moshiach.
May you and all of us together be blessed with being sealed and inscribed for the best year ever materially and spiritually, with all of the most bountiful blessings from Almighty G-d's infinite cornucopia containing everyone's ultimate hearts' desires to be realized in the easiest, best way, with happiness, health and peace of mind and soul.
With love, esteem and warm blessings,
Sholom D. Lipskar
(Please Click on the image)
Rosh Hashanah Eve
Sunday, September 25
Candle lighting 6:56 PM
Mincha & Evening Services 7:00 PM
Sephardic Mincha/Achot 7:00 PM
Rosh Hashanah 1st Day
Monday, September 26
Hashkama/Sunrise Minyan 6:30 AM
Morning Services 8:30 AM
Shofar Sounding (Approx.) 10:00 AM
Sephardic Minyan 8:30 AM
Sephardic Shofar Sounding (Approx.) 11:00 AM
Upstairs Minyan Service 10:00 AM
Shofar Sounding (Approx.) 12:15 PM
Mincha 6:00 PM
Sephardic Mincha/Tashlich 6:10 PM
Torah class 7:00 PM
Sephardic Arvit 7:25 PM
Evening Services 7:47 PM
Candle lighting After 7:47 PM (from existing flame)
Rosh Hashanah 2nd Day
Tuesday, September 27
Hashkama/Sunrise Minyan 6:30 AM
Morning Services 8:30 AM
Shofar Sounding (Approx.) 10:15 AM
Sephardic Minyan 8:30 AM
Sephardic Shofar Sounding (Approx.) 11:00 AM
Upstairs Minyan Service 10:00 AM
Shofar Sounding (Approx.) 12:15 PM
Sephardic Mincha/Arvit 6:30 PM
Mincha/ Maariv 6:30 PM followed by Farbrengen
Yom Tov ends 7:45 PM
Tzom Gedalia
Wednesday, September 28
Fast Begins 5:00 AM
Morning Services 6:50 AM / 7:30 AM / 9:00 AM
Sephardic Minyan 8:00 AM
Mincha 2:00 PM
Sephardic Mincha 6:50 PM
Mincha 6:50 PM
Fast Ends 7:34 PM
Shabbos Shuva Friday, September 30
Candle lighting 6:50 PM
Mincha/Evening Services 6:55 PM
Shabbos Shuva, October 1
Hashkama/Minyan 7:15 AM
Sephardic Minyan 9:00 AM
Morning Services 9:00 AM
Upstairs Minyan Service 10:00 AM
Kiddush 12:30 PM
Shabbos Community Shiur 6:15 PM
Sephardic Mincha 6:15 PM
Mincha 6:50 PM
Shabbos Ends / Havdalah 7:41 PM
Yom Kippur Eve
Tuesday, October 4
Mincha 2:00 PM
Sephardic Mincha 2:00 PM
Candle lighting 6:46 PM
Fast begins 6:46 PM
Kol Nidrei Services 7:00 PM
Lecha Eli/Kol Nidrei Sephardic 7:00 PM
Yom Kippur Day
Wednesday, October 5
Hashkama/Sunrise Minyan 6:33 AM
Sephardic Minyan 8:00 AM
Morning Services 9:00 AM
Yizkor Memorial Service (Approx.) 11:30 AM
Sephardic Mincha & Neilah 4:40 PM
Afternoon Service 5:15 PM
Neilah Closing Service 6:30 PM
Final Shofar Blow 7:37 PM
Fast Ends 7:37 PM
Maariv/Blessing of the New Moon 7:.37 PM
Follow by light refreshments
Friday, October 7
Candle lighting 6:43 PM
Mincha/Evening Services 6:50 PM
Shabbos, October 8
Hashkama/Minyan 7:15 AM
Sephardic Minyan 9:00 AM
Morning Services 9:00 AM
Upstairs Minyan Service 10:00 AM
Kiddush 12:30 PM
Shabbos Community Shiur 6:15 PM
Sephardic Mincha 6:15 PM
Mincha 6:45 PM
Shabbos Ends / Havdalah 7:34 PM
Sukkos Eve
Sunday, October 9
Candle lighting 6:41 PM
Sephardic Mincha/Arvit 6:35 PM
Mincha & Evening Services 6:45 PM
Community Dinner in the Sukkah 8:00 PM (by reservation)
Sukkos 1st Day
Monday, October 10
Hashkama/Minyan 7:15 AM
Sephardic Minyan 9:00 AM
Morning Services 9:00 AM
Upstairs Minyan Service 10:00 AM
Kiddush in the Sukkah 12:00 PM
Sephardic Mincha/Arvit 6:35 PM / 7:10 PM
Mincha 6:40 PM
Sukkos 2nd Day Eve
Monday, October 10
Candle lighting After 7:32 PM (from existing flame)
Evening Services 7:32 PM
Community Dinner in the Sukkah 8:00 PM (by reservation)
Sukkos 2nd Day
Tuesday, October 11
Hashkama/Minyan 7:15 AM
Sephardic Minyan 9:00 AM
Morning Services 9:00 AM
Upstairs Minyan Service 10:00 AM
Kiddush in the Sukkah 12:00 PM
Sephardic Mincha/Arvit 6:40 PM
Mincha & Evening Services 6:25 PM followed by Farbrengen
Yom Tov ends 7:31 PM
Thursday, October 13
Sukkkot Carnival Street Party 5:00 PM
Shabbat Chol Hamoed
Friday, October 14
Candle lighting 6:36 PM
Mincha & Evening Services 6:40 PM
Shabbos, October 15
Hashkama/Minyan 7:15 AM
Sephardic Minyan 9:00 AM
Morning Services 9:00 AM
Upstairs Minyan Service 10:00 AM
Kiddush in the Sukkah 12:00 PM
Shabbos Community Shiur 6:00 PM
Sephardic Mincha 6:30 PM
Mincha 6:30 PM
Shalosh Seudos 6:50 PM
Ma'ariv and Havdalah 7:27 PM
Hoshanah Rabbah
Sunday, October 16
Sephardic all night Learning 1:00 AM
Recite Book of Tehillim 1:10 AM
Sephardic Shacharis & Hoshanot 6:40 AM
Morning Services 8:00 AM / 9:15 AM

Shemini Atzeres Eve
Sunday, October 16
Candle lighting 6:34 PM
Mincha 6:35 PM
Evening Service 7:15 PM
Followed by Kiddush & Hakafos
Shemini Atzeres Day
Monday, October 17
Hashkama Minyan 7:15 AM
Sephardic Minyan 9:00 AM
Morning Services 9:00 AM
Yizkor Memorial Services (Approx.) 10:45 AM
Upstairs Minyan Service 10:00 AM
Yizkor Memorial Services (Approx.) 12:15 PM
Followed by Kiddush
Simchas Torah Eve
Monday, October 17
Mincha & Evening Services 6:30 PM
Light Candles After 7:25 PM (from existing flame)
Followed by Kiddush & Hakafos / Dancing onto the street
Simchas Torah Day
Tuesday, October 18
Hashkama Minyan 7:15 AM
Sephardic Minyan 9:00 AM
Morning Services 9:00 AM
Kiddush & Hakafos 10:15 AM
(Everyone has an Aliyah/Choson Torah/Choson Bereishis)
Grand Simchas Torah Kiddush 2:00 PM
Mincha & Evening Services 6:00 PM followed by Farbrengen
Sephardic Mincha 6:30 PM
Holiday ends 7:24 PM
HOLIDAY CALENDAR 5783
Begins sunset of Sunday, September 25, 2022
Ends nightfall of Tuesday, September 27, 2022
Begins sunset of Tuesday, October 4, 2022
Ends nightfall of Wednesday, October 5, 2022
Begins sunset of Sunday, October 9, 2022
Ends nightfall of Sunday, October 16, 2022
Shemini Atzeret & Simchat Torah
Begins sunset of Sunday, October 16, 2022
Ends nightfall of Tuesday, October 18, 2022
Begins sunset of Sunday, December 18, 2022
Ends nightfall of Monday, December 26, 2022
Begins sunrise of Tuesday, January 3, 2023
Ends nightfall of Tuesday, January 3, 2023
Monday, February 6, 2023
Begins sunset of Monday, March 6, 2023
Ends nightfall of Tuesday, March 7, 2023
Begins sunset of Wednesday, April 5, 2023
Ends nightfall of Thursday, April 13, 2023
Friday, May 5, 2023
Friday, May 5, 2023
Begins sunset of Thursday, May 25, 2023
Ends nightfall of Saturday, May 27, 2023
Thu, March 23 2023 1 Nisan 5783